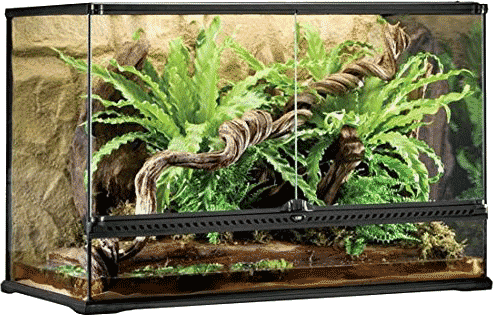 Featured product: Exo Terra glass Terrarium
This wonderful 3 foot wide tank has a waterproof glass bottom, and adequate front window ventilation to keep the front glass clear. Although marketed as a Terrarium, it works as the perfect Paludarium. Front-opening doors, and removeable top for easy access and effective maintenance. Available in a wide range of sizes: with a larger surface area for ground/water dwelling species, or taller for leaf dwellers. Suitable for just about any paludarium inhabitant.
The top is equipped with closable inlets on both sides - this allows access for wires and tubing without offering an escape route for paludarium animals or the tiny invertebrates with which they are being fed. Suitable for powering Heat Wave rocks, waterfalls, filters and sensors, or injecting water through misting systems, external canister filters, etc.
All in all a great enclosure, providing a perfect environment for plants and animals, yet easy maintenance for the paludarium keeper. Available from Amazon and other good pet stores.